Sukiya Living Magazine (JOJG) Issue #71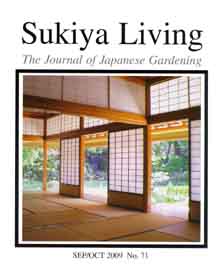 September/October 2009
Contents:
Cover Photo: Chashitsu Shigurei-tei in Kanazawa.
Publisher's Essay: Grandmas Make it Rain.
Viewpoints: Masculine vs. Feminine. Essays by Tamao Goda, Takendo Arii, Michael Alliger, Masashi Oshita, James Doyle, Lisa Parramore, and Tim Gruner.
Planning: Gardening on a Budget, by Asher Browne.
Natural Patterns: Coastal Outcroppings.
Myths: Story Creep, by George L. Vogt.
Layout: Kansho Drainage Ideas.
Japanese Garden Research: 2009 Shiosai Rankings.
Advanced Pruning: Conical Shapes.
Basic Pruning: Remove Before Shearing.
Tools, Tips, & Techniques: Sorting Rocks, by Timothy J. Hansken.
Teahouse Carpentry: Alternative Infill Walls.
Letters, Q&A: Dry Garden Perspectives.
Calendar of Events.
Sukiya Living Marketplace.
Back Cover: "Shower of Water Striders," by Kuniyoshi.