Japanese Garden Journal Issue #5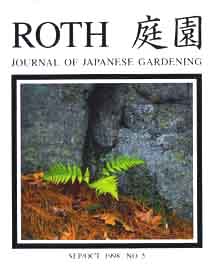 September/October 1998
Contents:
Bamboo Plants and Bamboo Timbers: Helpful Hints for Working with Bamboo, by Bruce Parkinson.
Ornaments: Stone Lantern Assembly.
Pond Construction: Protecting Koi from Great Heron.
Publisher's Essay: The Thick Wall.
Using Perennials in Japanese Gardens, by David Slawson.
Brick Rambler Integration.
Basic Pruning: How Much is Too Much?
Advanced Pruning: The Head of a Tree.
Rock Pattern Alignment.
Nishikigoi: Selecting Young Koh-haku.
Japanese Garden Myths: Miniaturization.
Book Reviews: Out-of-Print Books, by Tim Hansken.
Creating Moss-covered Roofs.
Carpentry: Wooden Braces for your Fence Roof.
Attending the IAJG Symposium, by Leslie Buck.
The Japanese Garden Marketplace.