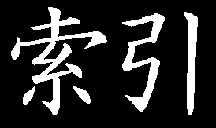 INDEX OF BACK ISSUES
"We want to convey how much we enjoy receiving JOJG. Back issues of The Journal are checked out of our Club Library more than any other periodical."
Florida West Coast Koi & Water Garden Club
Sukiya Living Magazine (JOJG)
Index of Back Issues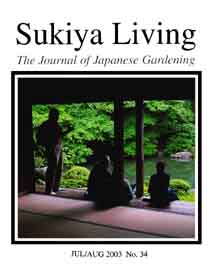 Back Issues of the Japanese Garden Journal are available for purchase (by Journal subscribers only, please) at a price of $7 each. One-time single issue sample copies are also available to prospective subscribers for $7 each. In most cases, a prospective subscriber will receive the most recently published issue.

All back issues are cataloged here. To examine the table of contents for a particular issue, first select a year group, then select the desired issue. Indexes are currently available for the years 1998 - 1999 - 2000 - 2001 - 2002 - 2003 - 2004 - 2005 - 2006 - 2007 - 2008 - 2009 - 2010 - 2011 - 2012 - 2013 - 2014 - 2015 - 2016 (please select one).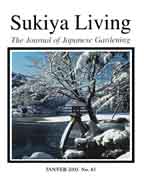 This website does not have an automated search tool for searching through back issue contents. If you would like to order a "package" of back issues that all contain articles on a given subject, please look at our BACK ISSUE PACKAGES page, which offers suggestions.
If you are planning to order a number of back issues, you may wish to print out our BACK ISSUE ORDER FORM and include it with your subscription.
----------------------------------------------------------------