Sukiya Living Magazine (JOJG)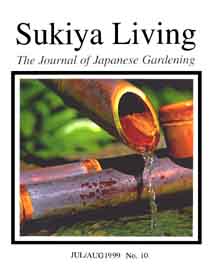 Topics
Every other month, JOJG discusses various aspects of the Sukiya Living Environment. Topics range from centuries-old design philosophy to modern, how-to construction techniques. A special emphasis is placed on architecture, craftsmanship and Japanese garden maintenance.
Each issue discusses both basic and advanced pruning techniques, as well as design and construction secrets that are never mentioned in coffee table books. Every issue includes "Viewpoints" essays by experts in the field, and a Q&A section where readers can ask questions of the editorial staff. Of special interest are the "Myth" articles that attempt to correct misleading information that circulates online and in poorly-written books and brochures. The Journal also publishes book reviews, leadership profiles, a Calendar of Events, and an advertising section called "The Japanese Garden Marketplace."
JOJG's "Survey-type" articles are historically significant. These articles examine scientific data and rank items such as the best books or the best gardens, both in Japan and in the West.
Regular Article Topics Include:
Japanese Maples (6)
Japanese Carpentry (6 subtopics)
Pruning Techniques (9 subtopics)
Naturalistic Swimming Pools (5)
Bamboo Plants and Bamboo Timbers (6)
Stone Setting Techniques and Rock Gardens (6)
Water Gardens (7 subtopics)
Koi (6 subtopics)
Japanese Architecture (5 subtopics)
Green Tea & The Japanese Tea Ceremony (5)
Bonsai (5 subtopics)
Natural Patterns (5 subtopics)
Tools, Tips, and Techniques (5)
Japanese Textiles (7 subtopics)
Surveys, Rankings, and Data Analysis (6)
Ergonomics & Human Sense Perception (7)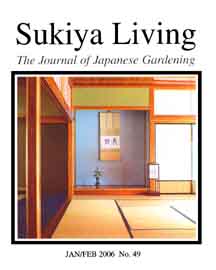 The Japanese Bath (7 subtopics)
Travel to Japan (7)
The Sukiya Living Environment
Garden Design Principles
Book Reviews
Fence and Path Construction
Japanese Art & Aesthetics
How to Create a Japanese Feel in YOUR Garden!
------------------------------------------------
Sukiya Living is, of course, an extremely broad subject. The list of potential article topics is endless.
Click here to view some some SAMPLE ARTICLES