Sukiya Living Tours
Garden Tours of Japan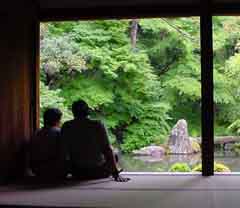 Every spring and fall Sukiya Living Magazine (JOJG) sponsors a walking tour that visits Kyoto and its surrounding regions. We visit beautiful gardens, neighborhoods, private homes, and spectacular restaurants. Our tours focus on what we call the Sukiya Living Environment. This includes Japanese gardens, Japanese residential architecture, and Japanese interior design. JOJG tours visit a carefully selected itinerary of homes, inns, restaurants, and public gardens that are of particular interest to Westerners who wish to study the tradition and perhaps create their own gardens back home. We specifically avoid most of the tourist hoop-la that dominates Kyoto. Instead we try to stay on quiet back streets and in out-of-the-way hamlets, visiting private homes and gardens. This is the real Japan that tourists rarely see.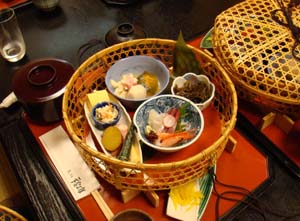 In addition to visiting some of the finest gardens in the world, JOJG hopes to offer a culturally-rich experience to our guests. Every day we sample authentic Japanese cuisine. One participant even referred to our two weeks together as "a culinary tour de force." The tour also spend a portion of each day visiting the studios of artists and craftsmen. Tour participants have numerous chances to learn about traditional Japanese activities such as ikebana, calligraphy, and the tea ceremony.
Unlike most garden tours of Japan, JOJG-sponsored trips are led by qualified Japanese garden experts, not regular bus tour guides assigned by a Japan travel agency. All of our guides speak both English and Japanese. Each has trained as a gardener in Japan, and each has a broad understanding of Japanese culture and tradition.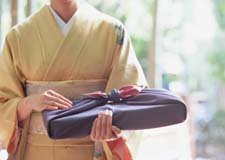 Sukiya Living Magazine subscribers expect each issue to come loaded with helpful hands-on information about gardening, carpentry, bamboo, koi, and other related topics. Our garden tours deliver more of the same, with a pruning demonstration, a visit to one of Kyoto's finest rock and plant nurseries, a visit to an Ohara koi breeder, and a stop at an awe-inspiring bamboo warehouse. If you are a hands-on type of gardener, you won't be disappointed.
NOTE: OUR NEXT KYOTO WALKING TOUR WILL BE HELD MAY 10~22, 2020.
NOTE: THE NEXT FALL TOUR WILL BE HELD OCTOBER 18~30, 2020.
So please, come join us! Embark on an intimate journey into the heart of Japanese culture. Wander through back streets, visit stunning homes and gardens, and enjoy authentic cuisine. Experience the real Japan that few tourists ever see - its people, traditions, arts, and timeless beauty. ...all in the company of like-minded friends and professional guides provided by the Sukiya Living Magazine. This is the magical experience you've been dreaming about!
Sukiya Living Tours is a Division of SUKIYA LIVING MAGAZINE (JOJG), P.O. Box 1050, Rockport, ME (USA) 04856 (tel/fax) 207-273-2907