Sukiya Living Tours
FAQ
Frequently Asked Questions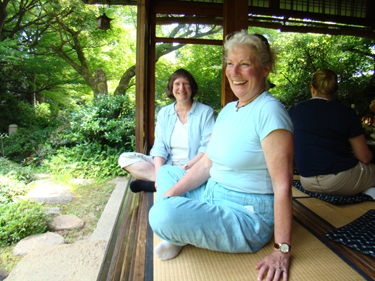 How long are JOJG's tours and how much do they cost? Most Sukiya Living tours have 13-day itineraries and include 12 nights lodging in Japan. The standard Kyoto Walking Tour is a 13 day tour which begins and ends at the Kansai International Airport. The price is $4,450 per person.
Do you sell airline tickets? No. Each traveler is responsible for their own travel arrangements to and from Japan. The tour begins once you arrive in Japan.
How physically strenuous are JOJG tours? JOJG tour participants should be prepared to walk 5 or more miles during the course of each day. In Japan there is a lot of walking, standing for long periods, and stair-climbing. Public transportation and conveniences such as benches or elevators do not exist at many locations. Tour participants must also be able to sit down on the floor (without a backrest) for about 30 minutes and then stand up again.
How many people will be on the tour? We expect a group of 12~15 people, plus two guides.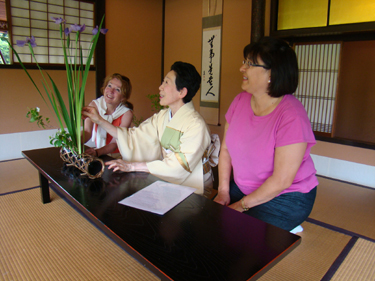 What kind of hotel are we staying at? The Palaceside Hotel in Kyoto is a clean, mid-grade Western-style hotel (Western beds, Western-style bath). In many ways it is special and perfect for our needs. It is conveniently located across from the Imperial Household Agency. The hotel is totally non-smoking, which is rare in Japan. It has a library, self-service kitchen, laundry, internet access, bicycles for rent, and free Japanese language lessons for guests.
Do I need to have a visa? Most, but not all, Western travelers do not need to acquire a visa if traveling to Japan for less than 90 days. Please contact your nearest Japanese embassy or consulate for more details.
Do I need to speak Japanese? No. JOJG's guides are bilingual, and they are happy to assist with any translation needs. It is nice, however, to master a few basics such as "Please", "Thank You," and "Where is the restroom." Free Japanese language classes are offered every evening to tour participants who wish to learn some phrases such as these.
Do you have age restrictions for your tours? No, there is no official age restriction for our tours, but travelers under the age of 18 must be accompanied by an adult. Please be aware that JOJG tours are adult-oriented, with a somewhat serious focus on culture and the human living environment.
Is travel in Japan safe? Japan is one of - if not THE - safest countries in the world. By Western standards it is very unlikely that any travelers to Japan would experience any environments that would be deemed "unsafe."
Do you have non-smoking tours? JOJG tours stay in a hotel in Kyoto that is 100% non-smoking. This is somewhat unusual in Japan. During our daily excursions tour participants are welcome to smoke while outside.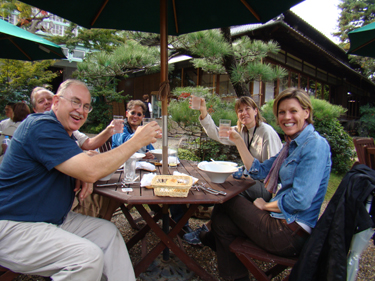 Should I bring extra money during the tour? Yes. Plan to bring some extra money for souvenirs and meals not covered by the tour. The tour price includes breakfast and one major meal (usually lunch) per day. Japan is a cash society and some facilities do not accept credit cards. There is no tipping in Japan.
What sort of clothing should I pack? Comfortable, casual clothing is appropriate for JOJG tours. We will occasionally be going out in the evening for dinner, so one sweater or pair of slacks might come in handy. The most important thing is to wear shoes that are comfortable and sturdy. Tour participants will be walking 5 or more miles over the course of each day. Tour participants should also be prepared for a few inevitable rainy days. We will be visiting homes and gardens regardless of the weather conditions.
Will my electrical appliances work in Japan? In western Japan electricity is supplied at 100 volts and 60 Hertz. Most modern Western appliances will work fine in Japan, but they may sometimes work a little slower.
Do I need to bring any special gifts? We will be visiting many private homes and gardens. Japan is a gift-giving culture, and it is often nice to present a small token gift to our hosts. The best token gifts are small, inexpensive, and personal. During the 13 day tour you will have 8~10 opportunities to present such gifts.
Will the Japanese get upset if I don't follow their etiquette? Not usually. Most Japanese people like foreigners and understand that they are unfamiliar with Japan's social customs.
What is the cancellation policy? Please see the TERMS AND CONDITIONS page on this website.
If I have additional questions about the tour, can I contact you? Certainly. Please contact us by mail or use the telephone number listed at the bottom of this page.
How do I sign up for a Sukiya Living Tour? After reading and agreeing to our TERMS AND CONDITIONS page, please fill out the TOUR RESERVATION FORM. A non-refundable $250 deposit reserves your place on the tour. If the tour is already filled, we will contact you and either (1) Return your deposit, or (2) Retain your deposit and reserve a spot for you on the waiting list.
Sukiya Living Tours is a Division of SUKIYA LIVING MAGAZINE (JOJG), P.O. Box 1050, Rockport, ME (USA) 04856 (tel/fax) 207-273-2907