Sukiya Living Tours
Terms & Conditions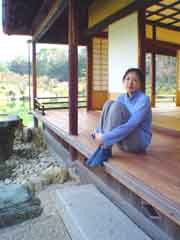 TOUR DATES Sukiya Living Tours (JOJG) usually plans two Kyoto Walking Tours each year. They are typically held in May and October. Dates for the tours are posted on the UPCOMING EVENTS page.
ITINERARY This website offers a sample itinerary for our annual Kyoto Walking Tour. The actual final itinerary for each tour is not determined until just prior to departure to allow for the inclusion of special exhibitions, visits, and events. Many visits to private homes and gardens are dependent on the schedules of our overseas friends. As such, the final itinerary of your tour may vary somewhat from the GENERAL TOUR ITINERARY posted here.
TOUR START DATE Tour participants who start their travel from a North American port will depart from their local airport in North America one day ahead of the tour start date. As they fly across the Pacific they will cross the international date line, and the date will automatically advance by one day. The tour officially starts with the first night's lodging at our hotel inside the Kansai International Airport in Osaka.
TOUR END DATE The tour will officially end at our Kyoto hotel upon checkout on the last morning. JOJG will arrange transportation to the airport for those traveling directly to the Kansai International Airport. In the past many participants have scheduled a few days of follow-on travel inside Japan. For example, those wishing to visit the Adachi Museum in Shimane Prefecture may wish to extend their stay in Japan for 4 or 5 extra days. JOJG is willing to help you to plan those post-tour "side trips."
AIRFARE JOJG tours begin and end in Japan. The tour price does not include airfare to/from Japan, and you are responsible for purchasing your own airline tickets. Please do not purchase your airline tickets until at least 8 people have signed-up and paid for the tour and the event is "green-lighted." (see "Minimum Participants" below).
AIRLINE RESERVATIONS For your convenience, the first night of the tour will be spent at an airport hotel inside the new Kansai International Airport (KIX). After a grueling 15-hour flight you can fall out of your plane and into your bed. This arrangement is truly a dream set-up as long as you book an international flight that arrives at KIX on the specified day. The arrangement becomes a headache, however, if you try to book a flight via other Japanese airports such as Narita (Tokyo) or Itami (Osaka). Please trust us on this. Be smart. Fly directly to KIX on the specified day.
DOUBLE OCCUPANCY The tour price is based on single occupancy (one person per room). A number of larger, double-occupancy rooms (two people per room) have been booked and are available on request for the same per-person tour price. In Japan, hotel room prices are usually based on a per-head basis, not on a per-room basis as they are in the West. JOJG feels it is appropriate to charge the same per-person tour price regardless of single or double occupancy.
TOUR PRICE $4,450
PAYMENT Placement of a $250 deposit will hold your place on the tour. Your $250 deposit is non-refundable. Payment of the balance is due no later than 90 days prior to the tour start date. Payments not received by the due date are subject to a $100 late fee. If there is a "waiting list" of tour participants, your spot may be transferred to another person if the balance of payment is not received by the due date. The total tour price is based on payment using a personal check or bank check. Credit card payment is possible for an additional $200 per person surcharge.
WAITING LIST Once the tour is filled to capacity any additional tour sign-ups (those who pay their $250 deposit) will be added to a waiting list. In previous years there have always been some spaces that opened up due to cancellations. People who are near the top of the waiting list have a good chance of attending the tour. Those on the waiting list who do not attend the tour will have their $250 deposit returned after the tour is completed. They will also receive advanced notice of future tours.
MINIMUM PARTICIPANTS JOJG requires that at least 8 participants be signed-up and paid in full for a tour event 90 days prior to the tour start date. If the group size is less than 8 people (at 90 days prior) the tour event will be postponed or cancelled and your money refunded. Our normal group size is 12~15 people. Our maximum group size is 22 people, but a group of this size is unusual.
CANCELLATION BY YOU There will be no refund once the trip has commenced. Refunds prior to the tour start date will be charged the following "drop-out" fees:
90-60 days prior to tour start date: 25% of the tour cost
59-45 days prior to tour start date: 50% of the tour cost
44-30 days prior to tour start date: 75% of the tour cost
less than 29 days prior to tour start date: 100% of the tour cost
CANCELLATION BY US JOJG reserves the right to postpone or cancel a tour if less than 8 people have signed-up and paid for the tour (90 days prior to the start date). Tours with 8 or more people will be "green-lighted" at least 90 days prior to the tour start date. After that every possible effort will be made to conduct a scheduled tour. There may be an extreme situation when a tour could be cancelled due to catastrophic events (an Asian Flu epidemic, the 9/11 attacks, etc...) If such an event occurs, there will be a prompt and full refund of any monies paid, minus any direct out-of-pocket expenses incurred by JOJG during tour preparations.
PHYSICAL FITNESS JOJG's Kyoto Walking Tours are real walking tours. Tour participants will be expected to walk 8~13 kilometers per day (5~8 miles). The walking is broken up over the course of the day and at a very reasonable pace. Tour participants will also visit many graceful sukiya-style homes and restaurants where they will be expected to sit on the floor on beautiful tatami mats (without a backrest). This is a lovely experience, but it can be very tiring for those who lack flexibility and back strength. These two physical fitness requirements - walking and sitting on the floor - are required to complete JOJG's Kyoto walking tours. Travelers who lack adequate physical fitness should not apply.
TRAVEL INSURANCE Tour participants have the option to protect their travel investment by purchasing travel insurance. Travel insurance is available at travel agencies and from many insurance companies. Please contact the company of your choice for further information about rates and coverage.
LIMITS OF RESPONSIBILITY JOJG purchases transportation, hotel accommodations, restaurant services, and other services from various independent suppliers that are not subject to its control. JOJG cannot, therefore, be liable for any death, personal injury, or other loss that may occur (1) due to any act or omission of such a supplier, or (2) by reason of any other event over which it has no control. JOJG reserves the right to cancel, withdraw, or modify a tour or any part of it; to change the means of conveyance without notice; to substitute hotels, and to make such alterations in the itinerary as it deems necessary or desirable.
Sukiya Living Tours is a Division of SUKIYA LIVING MAGAZINE (JOJG), P.O. Box 1050, Rockport, ME (USA) 04856 (tel/fax) 207-273-2907