Sukiya Living Tours
Tour Costs Include: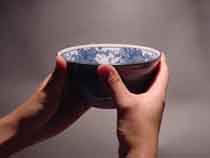 If you travel with us on a Sukiya Living Tour, your $4,450 trip price includes the following items:
------------------------------
ACCOMODATIONS Accommodations at a modest Kyoto hotel that is conveniently located. Tour accommodations are based on single occupancy (one person per room). 2-person rooms can be booked on request.
REST AFTER A LONG FLIGHT Your first night's stay will be at an Airport hotel at the Kansai International Airport (KIX), with bus transfers to Kyoto the following day.
MEALS Breakfast and one major meal per day - usually lunch at an exclusive restaurant or ryokan inn that has a spectacular garden. Please note that these are not "tourist" restaurants. Your tour will enjoy first class traditional cuisine at some stunningly beautiful restaurants. A large portion of your trip budget goes towards these expensive meals.
TRANSPORTATION In-country travel by a combination of public transport, taxi, and walking.
ENTRANCE FEES Admission fees to approximately 20 high-quality gardens and Sukiya Living Environments.
SPECIAL RESERVATIONS Special visits to difficult-to-visit sites such as the Imperial Villa at Katsura and Kyoto's famous moss garden at Saiho-ji.
DAY TRIPS Our group will travel outside Kyoto on several day trips to Fushimi, Nara, Fukui, and Ohara. Each of these destinations has special high-quality gardens that regular tourists rarely see.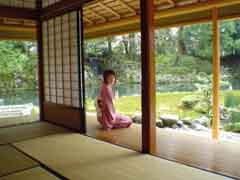 CULTURE Daily "cultural" activities. Examples might include a visit to an indigo dye workshop, lessons in ikebana and tea, a visit to a master calligrapher's home, and the chance to be entertained by shamisen and shakuhachi musicians.
SPECIAL "THEME" EVENTS All of our Kyoto tours include garden visits and visits to private homes. Depending on the interests of the participants, our tours also have sub-themes such as Architecture, Bonsai, or Textiles. We adjust the sub-themes based on pre-tour feedback, and we always schedule a few visits to special theme-oriented spots that Kyoto tourists never visit. For example, if many participants indicate that they are interested in hands-on gardening, we might visit a tree nursery, a stoneyard, and a koi breeder's farm. If participants indicate that they are interested in something like ceramics, art, or textiles, we can adjust parts of the tour around those interests.
INSTRUCTION Free daily Japanese lessons are available the hotel. Your tour also includes lessons in the Tea Ceremony, Ikebana, Calligraphy, and how to wear the Japanese Kimono. The tour also features a number of on-site lectures by Mr. Roth, Ms. Goda, and other experts.
POST-TOUR LOGISTICS Sukiya Living Tours can provide advice and some logistical assistance for post-tour travel in Japan. Foe example, an extended trip could include a side trip to Kanazawa, or a trip to visit the Adachi Museum, in Shimane Prefecture.
Sukiya Living Tours is a Division of SUKIYA LIVING MAGAZINE (JOJG), P.O. Box 1050, Rockport, ME (USA) 04856 (tel/fax) 207-273-2907