Japanese Garden Journal Issue #7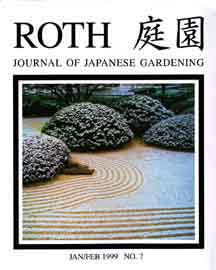 January/February 1999
Contents:
Prunus Mume, The Japanese Plum, by Virginia Vargas.
Chanoyu: A Rustic Tokonoma Post, by Gayle Fleming.
Garden Ornaments: Basin Alternatives.
Carpentry: A Hanging Panel Fence, by Bruce Parkinson.
Concrete in the Japanese Garden, by Tim Hansken.
Japanese Garden Design: A Desert Scene, by Dick Austin and Bill Castellon.
Basic Pruning: Pollarding vs. Topping.
Advanced Pruning: Pom-pom Conversion.
Japanese Garden Myths: Religion, by Prof. Bardwell Smith.
Nishiki-goi: Tancho Koi.
Public Garden Review: The Anderson Garden.
Leadership Profile: Larry Rosensweig.
Japanese Garden Calendar of Events.