Japanese Garden Journal Issue #15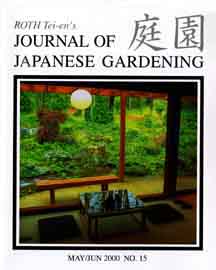 May/June 2000
Contents:
Green Japanese Maples.
Waterfall Garden Construction: Watertight Edge Stones.
Advanced Pruning: Pruning Mid-sized Trees for Shade.
Taste and Moderation.
Using Plants to Soften Heavy, Powerful Rocks.
Natural Patterns: Do Streams Emerge from Mountain Peaks?
Myths: Evolving Gardens for a Modern Era.
A Japanese Touch: The Heinzelmann Garden, by Dr. Pete Heinzelmann and David Slawson.
Building a Japanese Garden Hedge, by Asher Browne.
Where Can I Learn about Japanese Gardens?
Book Review: "Penjing - Worlds of Wonderment," by Qingquan Zhao and Karin Albert.
JOJG's Top Ten Japanese Garden Rankings.
Japanese Garden Calendar of Events
Japanese Garden Employment Opportunities.