Japanese Garden Journal Issue #17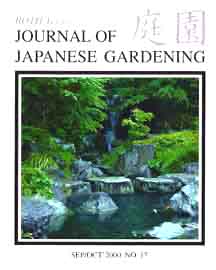 September/October 2000
Contents:
Cover: Shiosai Koen, Kanagawa Prefecture.
Japanese Garden Design: The Suburban Yard.
Garden Stepping Stones: Stepping-stone Paths over Water.
The Carleton College Garden, by Prof. Bardwell Smith.
Short-term Internships in Japan.
The Unsung Heroes of Long-Lasting Japanese Garden, by Asher Browne.
Basic Pruning: Kuro-matsu, The Japanese Black Pine, by Michael Menkevich.
Japanese Garden Myths: Kokoro-shaped Ponds.
Nishiki-goi: The Ogon Variety, by Tamao Goda.
Nobedan Path Construction: Make it Level, by Tim Hansken.
Plaster for Teahouse Walls.
The Japanese Garden Marketplace.