Japanese Garden Journal Issue #20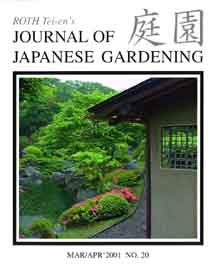 March/April 2001
Contents:
Destructive Symbolism.
Myths and Viewpoints: Religious Statues. Essays by Bardwell Smith, David Slawson, John Powell, William Stufflebeem, David DeGroot, and Tamao Goda.
Garden Construction: A Complete Project, by Asher Browne.
Basic Pruning: Unwanted Branches.
Advanced Pruning: How to Spot a Pom-pom.
Japanese Rock Garden Design: Space in the Japanese Garden, by Robert Ketchell.
Architecture: The Izumi-dono Effect.
The Japanese Tea Ceremony: Old vs. New, by Tamao Goda.
Carpentry: Scribe-fitting Posts to Round Purlins.
Okatsune's Handsnips.
Design Questions: White Gravel or Not?
Informal Survey: Kyoto's Most Famous Gardens.
Out-of-Print Book Store.
Japanese Garden Marketplace.