Japanese Garden Journal Issue #41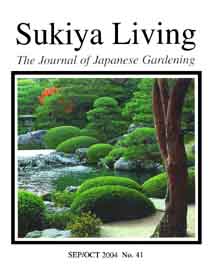 September/October 2004
Contents:
Japanese Garden Bridges: Raft-style Bridges.
Garden Stepping Stones: 10 Hints for Better Stepping Stone Paths.
The Adachi Art Museum, Shimane Prefecture.
Reference: Japanese Garden Encyclopedia & Pronunciation Guide.
Essay: Credit Where Due.
Viewpoints: The Secrets of Pruning. Essays by Michael Alliger, Asher Browne, David DeGroot, Tamao Goda, Anne L'Heureux, Kathy Shaner, and William N. Valavanis.
Basic Pruning: Start with Tenba.
Japanese Koi: Bekko.
Gardens in Japan: Koh-koku-ji: a "Gentle" Garden, by Adrian Bennett.
Public Gardens: Shinzen Island Restoration, by Peter Bowyer and Steve DaSilva.
Japanese Garden Design: Viewing Gardens.
Surveys: North American Garden Survey Feedback.
Japanese Garden Calendar of Events.
Upcoming Japanese Garden Workshops and Classes.