Japanese Garden Journal Issue #50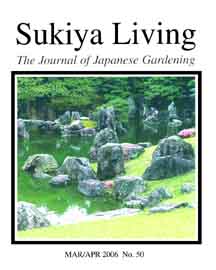 Mar/Apr 2006
Contents:
Cover: Nijo Castle's Ninomaru Garden.
Nishiki-goi: Butterfly Koi
Viewpoints: What is Your Least Favorite Myth? Essays by Clifton Olds, Kendall H. Brown, Kazuo Mitsuhashi, Tamao Goda, Jim Hanselman, J. Skuba, and Gesine Jochems.
Fences, Gates, and Outbuildings: Sukiya-style Gates.
Japanese Culture: Bamboo Leaves.
Swimming Pool Designs and Waterfeature Construction: Steel Wall Removal, by Tim Gruner.
Basic Pruning: Goodbye Deadwood.
A Japanese Touch for Your Home: Window Upgrade, by Herbert Thornton.
Architecture: Soma Farmhouse Project.
Horticulture: Moss Biology, by Tamao Goda.
Publisher's Essay: Garbage in, Garbage out.
Letters, Q&A.
Tour Promo & Book Reviews: Adachi Comes to USA.
Calendar of Events
Japanese Garden Marketplace.
CYCLE BACK TO ISSUE #1 PREVIOUS ISSUE