Japanese Garden Journal Issue #52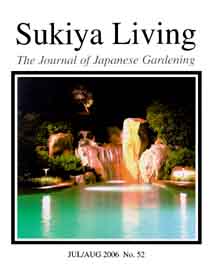 Jul/Aug 2006
Contents:
Japanese Architecture: Japanese House Plans.
Swimming Pool Designs: The Stillman Pool.
Fruit Tree Pruning: Proper Felco Use.
Water Feature Construction: Sluice Gates.
Stone Setting: Lame Stone Groupings, by Tamao Goda.
Viewpoints: The "Aesthetic Pruning" Term. Essays by Cass Turnbull, Michael Alliger, John Powell, Anne L'Heureux, William Stufflebeem, Tamao Goda, and Asher Browne.
Gardens in Japan: Kyoto Fumin Hall, by Adrian Bennett.
Japanese Garden Layout: Smaller is Better.
Letters, Q&A: The Meaning of "Tamamono."
Certification Exam: Test Your Sukiya IQ #52.
Publisher's Essay: Shoe Factory Management.
JOJG Garden Tour Announcement.
Calendar of Events.
Sukiya Living Marketplace.
Back Cover Ukiyoe: Hokusai Woodblock Print.