Japanese Garden Journal Issue #57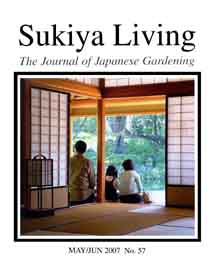 May/June 2007
Contents:
Japanese Quilts: A Japanese Noren for Your Home.
Water Gardening: Control of Pond Algae.
Publisher's Essay: I'm from Japan, not China, by Tamao Goda.
Viewpoints: Chicken or Egg? Essays by Douglas M. Roth, Takanori Adachi, Steve Beimel, Pavel Chihal, Len Brackett, Martin Mosko, and Craig Klucina.
A Japanese Touch: Garden Budgets for Commoners.
Basic Pruning: Foundation Cut-backs.
Ornaments: Rankei Lanterns.
2007 Australian Public Garden Survey.
Letters, Q&A: Plans, Evaluations, etc...
Perfect Gardens vs. Garden Liabilities.
Certification Exam: Test Your Sukiya IQ #57.
Book Reviews: Niwaki; Japanese Inns; Daiku Tools.
Calendar of Evenats.
Travel to Japan: JOJG's 2007 Fall Garden Tour.
Sukiya Living Marketplace.
Back Cover Ukiyoe, by Hiroshige