Sukiya Living Magazine (JOJG) Issue #61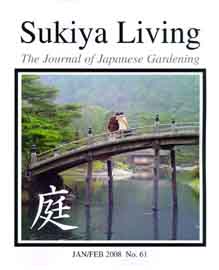 January/February 2008
Contents:
Cover Photo: Ritsurin Koen in Shikoku.
Publisher's Essay: 10th Year Anniversary!
Japanese Interior Design: Tokonoma Basics, by Tamao Goda.
Japanese Garden Bridges: 10 Hints for Better Garden Bridges.
Viewpoints: The Value of Precedent. Essays by Peter Wechsler, Asher Browne, Tamao Goda, Craig Klucina, Graham Hardman, Harrelson Stanley, and Dale Brotherton.
Japanese Garden Design: Create it Yourself.
Advanced Pruning: Cascading Branches.
Tokonoma Centerfold.
Letters, Q&A: Visual Range.
Sukiya Living Book Rankings: The Top 30 Books.
Book Reviews: Seven Selections from the Survey.
Public Gardens in the West: Public Garden Critiques, by William Webster.
Calendar of Events.
Travel to Japan: JOJG's 2008 Spring Garden Tour!
Sukiya Living Marketplace.
Back Cover: "Kameyama," by Ando Hiroshige.