Japanese Garden Journal Issue #60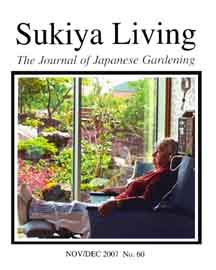 November/December 2007
Contents:
Cover Photo: Samaritan Lebanon Community Hospital
Publisher's Essay: Healing & The Big Picture
Viewpoints: The Human Connection. Essays by Kendall Brown, Hoichi Kurisu, J. Skuba, Lisa Parramore, Clifton Olds, Michael Ellena, and Tamao Goda.
Japanese Garden Design: Samaritan Lebanon Community Hospital and its remarkable Cancer Treatment center.
Human Sense Perception: The Color Green, by Heather Blum.
Ergonomics: The Observation Point.
Contrasts in Function and Intimacy, by David Slawson.
Basic Pruning: The Entoh-kei Shape.
Ergonomic Wood Furniture: Machiai Seat Layout (Ergonomic Chairs for Japanese Garden Outbuildings)
Horticulture Therapy: Nature Deficit Disorder?, by Heather Blum.
Letters, Q&A: Mino-gaki Bamboo Fences.
Calendar of Events.
Tour Announcement: JOJG's 2008 Spring Garden Tour!
Adachi Comes to USA.
Sukiya Living Marketplace.
Back Cover Ukiyoe: "Asakusa Tanbo," by Hiroshige.