Japanese Garden Journal Issue #59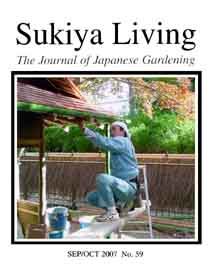 September/October 2007
Contents:
Cover Photo: Teahouse Carpenter at Work.
Japanese Tea Ceremony: Tea Accessories.
2007 Japanese Restaurant Survey: Kyoto's Top Garden Restaurants.
Sukiya Blueprints: Mihama-en in Chiba.
Japanese Garden Ornaments: Tea Basin Terminology
Japanese Water Garden: Stream Layout Concepts.
Publisher's Essay: Preservation = The End.
Viewpoints: Shearable Shrubs. Essays by Cass Turnbull, John Powell, Mary Bigelow, Tony Bishop, Palmer W. Koelb, Bruce Blake, and James T. Hanselman.
Sukiya Living Myths: Clear Water Preferred.
Advanced Pruning: Multi-trunk Rehab.
Letters, Q&A: More About Budgets; Bog-Frog Crowd; Ama-ochi vs. Noki-uchi; Moss Biology.
Calander of Events.
Tour Announcement: JOJG's 2008 Spring Garden Tour!
Adachi Comes to USA.
Sukiya Living Marketplace.
Back Cover Ukiyoe, by Hiroshige.