Sukiya Living Magazine (JOJG) Issue #75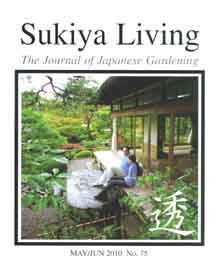 May/June 2010
Contents:
COVER PHOTO: Yoshiki-en in Nara.
PUBLISHER'S ESSAY: Rethinking Quality in Japan. The Japanese are re-evaluating what it takes to be a high-quality garden. Being large, old, and/or famous is no longer the benchmark.
VIEWPOINTS: A New Universal Beauty? Does the sukiya living environment represent a universal beauty, or is it a culturally-specific art form? Essays by David DeGroot, David Slawson, Kazuo Mitsuhashi, Tim Gruner, J. Skuba, Timothy J. Hansken, and Tamao Goda.
FENCES & GATES: Hedge Theory, by Asher Browne. Everything you need to know about the role of hedges, hedge plants, and hedge installation and care.
NATURAL PATTERNS: Do Streams Emerge from Mountain Peaks? Learn how to shape your streams and waterfalls in convincing fashion. Don't create water spewing volcanoes.
POND CONSTRUCTION; Watertight Edge Stones. There's a right way and a wrong way to combine concrete vessels with naturalistic edge stones.
ERGONOMICS: Goldilocks and Tree Size. In the Japanese garden, what is "big" and what is "small?" It all depends on your body size.
HORTICULTURE: Green Japanese Maples. Enjoy the virtues of subtle color and grace. In Japan, the green species variety reigns supreme.
ADVANCED PRUNING: Japanese Maple Rehabilitation. This article explains how to fix the "shrub effect" that is caused by inappropriate shearing and other ill-advised forms of maple pruning.
SUKIYA ARCHITECTURE: Suspended Ceilings. It's all an optical illusion! Those graceful lightweight ceilings aren't what they look like.
MYTHS: Tanizaki's Misstep, by Tamao Goda. Tanizaki got it wrong. Most Japanese people are uncomfortable in dimly-lit rooms. Tasteful lighting is popular, as is the ubiquitous overhead fluorescent light.
TOOLS, TIPS, & TECHNIQUES: Tree Island Gogan. Here's a helpful way to practice the gogan technique, and it looks great in your yard, too!
LETTERS, Q&A: Moss is a Lot of Work. Don't be fooled. Moss gardens and dry gardens are high-maintenance endeavors.
BOOK REVIEWS: "Ryokan," by Akihiko Seki and Elizabeth Heilman Brooke; "My Life in Japanese Art and Gardens," by Zenko Adachi; "Conifers for Gardens," by Richard L. Bitner.
CALENDAR OF EVENTS: The latest news and events that you can attend.
SUKIYA LIVING MARKETPLACE. Japanese Garden specialists and other professionals.
TRAVEL TO JAPAN: JOJG's Kyoto Walking Tour. The best way to see Japan's finest gardens. Join us on this special journey!
BACK COVER: "Iris & Grasshopper," by Hokusai.