Japanese Garden Journal
Decorative Quilts by Carrie Hedstrom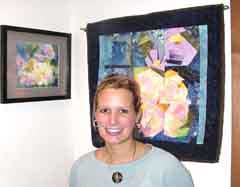 Carrie Hedstrom is a professional art quilter from Camden, Maine. Art quilts take the traditional concept of quilting and expand it toward the realm of fine art. Instead of using standard quilt patterns, Carrie regards each quilt as a "canvas" for new and original art. Her handmade quilts are each unique and often based on an artistic theme or famous painting.
Carrie's art quilts often incorporate Japanese or Chinese quilting motifs. During a recent visit to her studio we marveled at her beautiful hand made quilts featuring Japanese themes such as kanji, Japanese tea bowls, and ukiyoe woodblock prints. One quilt pattern featured a fan-shape ukiyoe print by Hiroshige. And several other stunning wall hangings featured swimming and swirling Japanese koi.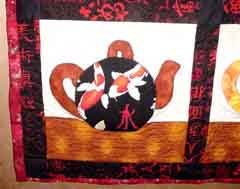 "I like to use bright and contrasting colors," says Carrie. "I also enjoy trying to create a sense of motion with the stitching. Many of my quilts are inspired by famous works of art. Sometimes I reproduce a beautiful painting, and other times the quilts are entirely my own design."
Carrie can produce personalized quilts based on a photograph of a customer's pet or garden. In the photo shown at the top of this page, Carrie stands by a water color painting done by one of her customers. Beside the painting is Carrie's art quilt of the same scene.
Many JOJG readers profess to loving a particular Japanese garden, koi, or woodblock print scene. Carrie's custom handmade quilts offer the chance to capture that image on a quilt or wall hanging for your home. She can be contacted at the following address:
"Decorative Quilts by Carrie"
7 Mount Battie Street
Camden, ME 04843
(207) 236-2267