Japanese Garden Journal
Maine Resources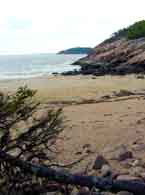 In 2003 JOJG moved its editorial offices to the State of Maine. One reason we moved to this state is because Maine already boasts so many Sukiya Living resources. The state is rural and beautiful, with many of the same natural features that are seen in Japan. Indeed, if one wished to to see rocky coasts and pine-covered mountains, Japan and Maine are two of the very best places to visit.
In addition to its scenic beauty, coastal Maine is home to an enormous number of artists, writers, and nature lovers who came here from all over the world. The social and cultural life of coastal Maine is filled with interesting people who moved here because they love Maine's scenery and relaxed lifestyle. In addition to being lovers of art and nature, most of these "transplants" are educated, financially secure, and culturally literate. They are the kind of people who can appreciate Japanese culture and the Sukiya Living Environment.
In honor of our home state, we would like to mention some of the Japanese garden resources that reside in the State of Maine:
----------------------------------------------------------------------
THE ASTICOU AZALEA GARDEN (Northeast Harbor) This public Japanese garden is located in Northeast Harbor, on Mount Desert Island. It is located just a few miles down the road from Acadia National Park. In JOJG's 2004 Japanese Garden Survey, the Asticou Azalea Garden ranked number eleven out of more than 300 public Japanese gardens in North America. It is, indeed, one of the best Japanese gardens outside of Japan. This achievement is largely due to the efforts of their head gardener, Mary Roper, and the leadership of MDI residents Elizabeth Straus and Jan Coates.
BOWDOIN COLLEGE (Brunswick) Professor Clifton Olds has created a Japanese garden website that is rapidly becoming one of the largest and most influential online Japanese garden resources.
BRUCE BLAKE (Waldoboro) Mr. Blake is a horticulturist, aesthetic tree pruner, Japanese garden specialist, and longtime JOJG supporter. There are few hands-on gardeners in New England who can match his knowledge of aesthetic pruning and winter hardy plant material. Contact him at (207) 832-4695
WINDSWEPT GARDENS (Bangor) This company specializes in high-end design/build projects. The company president, Mr. Robert D. Bangs, has 33 years of experience and is very knowledgeable about the Japanese garden tradition. Contact him at (207) 941-9898
QA 13 ARCHITECTS Paula Beall and Kenneth Schiano form a small architecture practice that has created Japanese-style buildings for their clients. (207) 990-1828
ROCKPORT POST & BEAM (Rockport) The manager of Rockport Post & Beam is named Peter Smith. 30 years ago he helped David Slawson build the well-known Japanese garden at Carleton College, in Northfield, Minnesota. Now he specializes in timber frame homes. (888) 285-8562
DECORATIVE QUILTS BY CARRIE (Camden) Carrie Hedstrom is a professional quilt artist who specializes in Japanese themes. Her quilts often feature Japanese quilting motifs such as ukiyoe prints or swirling Japanese koi.
THE JOURNAL OF JAPANESE GARDENING (Rockport) In addition to publishing a magazine about Japanese architecture and gardening, we are also developing a training center near the Town of Union where students can practice pruning, stone-setting, carpentry, and other traditional Japanese skills.
-------------------------------------