Japanese Garden Journal
Merritt College Pruning Club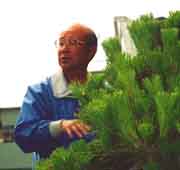 The Merritt College Pruning Club in Oakland, California, is a remarkable organization and a fantastic Japanese garden resource. Founded by Dennis Makishima (see photo, right) in 1987, the Merritt College Pruning Club (MCPC) is one of the few places in North America where anyone with an interest in Japanese gardening can go to learn hands-on skills such as aesthetic tree pruning and stone setting.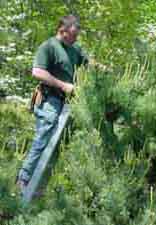 MCPC offers instruction in at least five different formats: (1) They offer classroom-based horticultural classes at Merritt College, in Oakland, California. (2) The club has a "home base" Japanese garden that they maintain at Lakeside Park, in Oakland. (3) They sponsor weekly hands-on workshops and pruning demonstrations at Bay Area Japanese gardens such as the Berkeley Buddhist Church Garden and the Green Gulch Center. (4) They sponsor a regular Japanese garden lecture series at Hakone Gardens, in Saratoga, and (5) The club holds an annual "Aesthetic Pruning Seminar" each summer at Merritt College.
The ranks of MCPC leadership reads like a "who's who" of Japanese garden experts. Nearly all of them are regular JOJG writers and contributors. They are patient and generous teachers who are willing to share their knowledge with others. Here are a few individuals that we would like to recognize:
--------------------------------------------------------------
DENNIS MAKISHIMA - Founder of the group, he is legendary for his dynamic teaching skills.
TIM HANSKEN - Asian Linguist and Journal of Japanese Gardening staff member. He spends six months of each year building Japanese gardens in China.
MICHAEL ALLIGER - California's "Pruning Guru," Mr. Alliger is MCPC's lead classroom instructor for the horticultural classes offered at Merritt College.
LESLIE BUCK, BILL CASTELLON, and DICK AUSTIN - Aesthetic tree pruners and garden builders, they are all regular JOJG contributors who have trained in Japan. Each is a key leadership figure in the field of Japanese gardening.
SACHIYO AOYAMA - Born in Japan, she is an ornamental pruning specialist with 15 years of experience. She has trained in Japan and works all over North America.
PETER BOWYER - Garden builder and coordinator of the Hakone Gardens Lecture Series.
YUKI NARA - Born in Japan, she is a pruning instructor and Japanese maple specialist. She offers regular hands-on pruning workshops at various venues.
CYNTHIA KINGSBURY - Japan-trained gardener and builder of rustic furniture.
PETE CHURGEL - ISA Certified Arborist and aesthetic tree pruner. He provides Japanese garden pruning services as well as pruning instruction, tree appraisals, and hazard tree assessments.
FRED MIYAHARA & STEVE DA SILVA - Fred Miyahara maintains the Japanese garden in San Diego. Steve DaSilva maintains the Shinzen Japanese Garden in Fresno.
RANDALL LEE - Aesthetic tree pruner and bonsai instructor.
LISA PARRAMORE - She is a regular JOJG article writer and up-and-coming Japanese garden builder.
---------------------------------------------