Sukiya Living Magazine (JOJG)
The Humble Gate Myth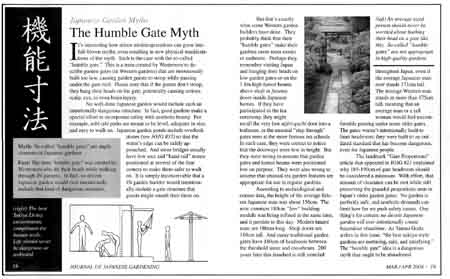 This article is about misinformation regarding Japanese gate design. The misinformation is often found in badly-written books, on websites, and in public garden brochures.
THE MYTH: So-called "humble gates" are staple elements in Japanese gardens. They supposedly make a person bow when passing through a garden gate and entering a garden.
THE FACT: There are plenty of (misleading) Japanese myths. This story isn't one of them because it isn't Japanese. The humble gate nonsense is something that was created by tall Westerners who hit their heads while walking through Japanese gates. In fact, no decent Japanese garden would ever intentionally include that kind of dangerous structure. Most so-called "humble gates" were simply wooden garden gates that were built to match the smaller Japanese body size.