Japanese Garden Journal Issue #9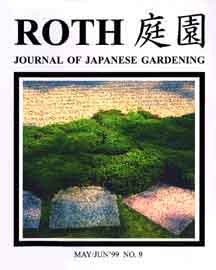 May/June 1999
Contents:
Book Review: "Japanese Flowering Cherries."
Moss Mavens, by J. Skuba.
Publisher's Essay: A Lifelong Journey.
Inspiration: Natural Beauty and Power, by Kathleen Fink.
Japanese Garden Design: A Townhouse Deck.
High-Quality Rock.
Advanced Pruning: Pruning Garden Trees, by Yoshio Noda.
Pond Construction: Living Water, Flowing Streams.
Japanese Garden Myths: Bamboo Braces.
Ornaments: The Lanterns of Seiwa-en, photos by Jack Jennings.
How-to Questions: Saving Your Poodles.
Tools, Tips, and Techniques: Needle Grooming.
San Diego's Japanese Garden Study Center, by J. Bruce Henderson and Phil Herr.
Leadership Profile: Jack Miller, "The Moss Man."
Japanese Garden Calendar of Events.
The Japanese Garden Marketplace.