Japanese Garden Journal Issue #10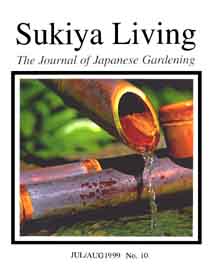 July/August 1999
Contents:
The Japanese Tea Ceremony: Here and Now, by Megumi Somi Unno.
Japanese Garden Gate Foundations, by Gayle Fleming.
Public Gardens: The Portland Japanese Garden's New Karesansui.
Viewpoints Essays: "What is a Japanese Garden?" Essays by Shiro Nakane, Osamu Shimizu, Mark Peter Keane, Sadafumi Uchiyama, Claire Sawyers, and Tamao Goda.
Pruning: Training Your Trees to Cascade over Water.
Enhancing Shrub Beds, by Judy Fowler-Langston.
Pond Construction: Edge Restoration, by Asher Browne.
Japanese Garden Myths: Root Pruning Trees.
Architecture: The "Line" in Foyer Design.
Nishiki-goi: Handling Koi, by Tamao Goda.
Ask the Experts: Gumbo Soil.
Leadership Profile: Yuji Yoshimura, by William N. Valavanis.
Book Review: "Japanese-style Gardens of the Pacific West Coast," by Kendall H. Brown and M. Levick.
The Japanese Garden Marketplace.