Japanese Garden Journal Issue #13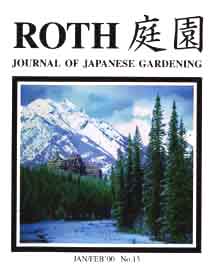 January/February 2000
Contents:
An Overview of Japanese Architecture, by Dale Brotherton.
Lawn Mowers for Bamboo Control?
Book Review: "Building Bamboo Fences," by Isao Yoshikawa.
Publisher's Essay: Misleading Brochures.
Culture: The Enduring Art of Japan, by Dr. John L. Creech.
Japanese Garden Viewpoints: "Universal Beauty?" Essays by Osamu Shimizu, David Slawson, Henry Ferguson, Tim Hansken, Ken Lanb, Bo Larsen, Jeanett Correll, and Tamao Goda.
Advanced Pruning: Two-headed Monsters.
The Power of Stone: Tenba.
Japanese Garden Mis-Education: Pamplets, by Asher Browne.
Nishiki-goi: Taisho vs. Showa.
The Weatherford High School Garden, by John Powell.
Leadership Profile: Ben Chu.
California's Ueki Sentei Kai, by James Hess.
The Japanese Garden Marketplace.