Japanese Garden Journal Issue #23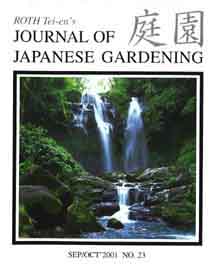 September/October 2001
Contents:
Japanese Garden Myths: The Cherry Tree Myth, by Tamao Goda.
Japanese Garden Paths: Nobedan Construction, by Sumiro Kawamoto.
Sukiya Profiles: The Anderson Gardens Machiai.
Basic Pruning: Pruning Junipers.
Publisher's Essay: The Complete Package.
Natural Patterns: Mountain and Canyon Gardens.
Images from Keihana Park.
Advanced Pruning: The Head of a Tree.
Pond Construction: The Hai-seki/Turf Challenge.
A Unique Solution for a Unique Problem, by Steve Valentine and Lew Buller.
What are Noren?
The United Nations Peace Bell Garden, designed and constructed by Zen Associates.
Japanese Garden Calendar of Events.