Japanese Garden Journal Issue #24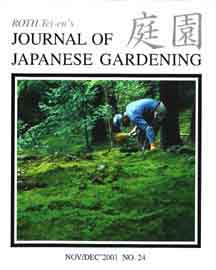 November/Dec. 2001
Contents:
Front Cover: Moss Gardener at Saiho-ji.
Garden Stepping Stones: Tobi-ishi Philosophy, by Asher Browne.
Nature: Is it a Basic Need?
Japanese Garden Design: Gardens that Frame The View.
Viewpoints: "The Role of Decks." Essays by Masashi Oshita, Dale Brotherton, Dick Austin, Gerald Rainville, Tim Hansken, James Hess, and Asher Browne.
Grassy Foreground Areas.
Myths: The Natural (looking) Position of Rocks.
Ornaments: "Coin" Water Basins.
Advanced Pruning: Modern Aboriculture Terms.
Waterfeature Construction: What is Waterstop?
Carpentry: A Garden Show Exhibit.
Gardens in Japan: Tokyo's Komaba Koen.
JOJG's Japanese Garden Calendar of Events.
The Japanese Garden Marketplace.
"Autumn Moon at Ishiyama"