Japanese Garden Journal Issue #25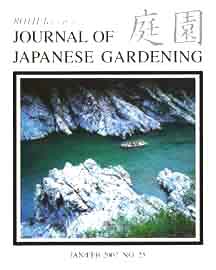 January/February 2002
Contents:
Book Review: Themes, Scenes... Wybe Kuitert's Ground-breaking Zen Chapter.
Stone: The Six Basic Categories of Garden Rock.
Recycled Footnotes.
Viewpoints: "Restoration versus Renovation." Essays by David Slawson, Kendall H. Brown, Sadafumi Uchiyama, Phyllis Reynolds, Bill Stufflebeem, and Tamao Goda.
Architecture: Hashira - Timberframe Posts.
Waterfeature Construction: Shoreline Stabilization, by J. Skuba.
Advanced Pruning: Routine Pruning of the Japanese Flowering Plum.
Nishiki Goi: Koi Can Make Lifetime Memories, by Tamao Goda.
Gate Doors, Big Machines, and Rocks.
Public Gardens: Western Adaptations of Japanese Gardens, by Sumiro Kawamoto.
The Best Japanese Gardens in the West.
JOJG's Calendar of Events.
The Japanese Garden Marketplace.
"Winter at Sumida River," by Hiroshige.