Sukiya Living Magazine (JOJG) Issue #26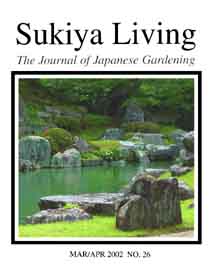 March/April 2002
Contents:
Book Review: "The Craft and Art of Bamboo."
Wooden Fences for Japanese Gardens
Publisher's Essay: Plants and the Big Picture.
Viewpoints Essays: "The Zen Garden Term" Essays by Tamao Goda, Bardwell Smith, Kendall H. Brown, Tim Hansken, J. Skuba, Steve Beimel, and Asher Browne.
Ergonomics & Sense Perception: Observer's Eye Level.
The Power of Stone, by Bill Castellon.
Flagstone Basics.
Advanced Pruning: Pruning the Whorl.
Horticulture: Thinning Bamboo, by Tamao Goda.
Book Review: "Bamboo in Japan."
Figurative Statuary and Other Unwanted Gifts
JOJG's Calendar of Events.