Sukiya Living Magazine (JOJG)
Tategu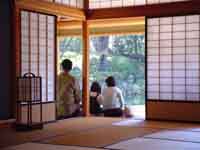 The word tategu refers to the doors and windows of a Japanese house. Shoji screens are fairly well known in the West, but in the traditional Japanese house there are other equally important types of doors and window treatments. Examples would include fusuma doors, amado shutters, sudare bamboo blinds, byobu partitions, ranma transoms, and built-in pocket doors.
A special Japanese craftsman known as a tategu-ya builds and installs all of these movable elements. His job requires exceptional precision as well as artistic sensibility. As a "sub-contractor" the tategu-ya is an often overlooked member of the homebuilding team, but anyone who is truely familiar with a Japanese house knows how important the tategu-ya is.
JOJG publishes regular articles about Japanese interior design and the various door systems used in Japanese homes. Some of the articles include cultural and historical details, but most of the articles strive to help readers bring the mood of Sukiya Living into their own living environments. Posted below are a few sample "Tategu" articles for your review:
---------------------------------------------------------------
SHOJI SCREENS This article outlines various details about shoji doors, including how a shoji screen is made and how shoji are used in traditional homes. Did you know that shoji screens are NOT made of rice paper? Read this article to learn more.
RANMA Ranma transoms are carved wooden boards that are installed in the wall above fusuma doors and shoji sliding doors. Ranma come in many different styles. This article describes the various types of ranma that are used in Japanese houses.
YUKIMI SHOJI This article by woodworker Craig Klucina profiles his technique of taking Japanese shoji and adapting it to Western double-hung windows. His concept is a great way to add a touch of Japanese interior design to your Western home.
JAPANESE INTERIOR DESIGN SUDARE Sudare bamboo blinds provide shade to sunny window openings in Japanese houses. Made of thin reeds, sudare are one of the easiest Japanese window treatments to use in Western-style rooms.
JAPANESE SCREENS This article is titled "Byobu." It is about the free-standing folding screens that are sometimes used as room partitions in Japanese house design.
SHITAJI MADO Japanese tea buildings often showcase beautiful windows with built-in bamboo lattices. It is a charming feature of Japanese room design. This article explains where to purchase the lattices and how to install them.
WHAT ARE FUSUMA DOORS? There are two main types of traditional Japanese doors: fusuma and shoji. This article examines fusuma and explains why they are such important elements in Japanese timber frame homes.
---------------------------------------